Winfoil 3 Other Details

User Portal
11/19/2019
|
Category:

Updates
Winfoil V3.0.47 Released
A new release of Winfoil is now available.

Winfoil 3.0.47 Enhancements and Fixes
DXF export option of excluding skin now works correctly
Fixed issue with intermediate spar location being incorrect in DXF export.
Fixed issue with last coordinate pairs being dropped in DXF export.
DXF export enhanced to reduce number of segments generated. Eg; 4500 reduced to 20.
Various issues with DXF export fixed and code refactored.
DXF export will also export a text file containing points (x,y,z) for import into IronCad.
Design print options are now saved so that these are retained for the next time a design is printed.
DXF export now auto closes the shape.
Jig Hole functionality enhanced. Previously when a jig hole missed a rib a message was displayed and rib printing/dxf generation was stopped.Now a message is displayed and jig holes that miss a rib(s) are not plotted or generated.
Fixed error 'Syntaxisfout (komma) in query-expressie name ='GEE BEE' and type = '9' and speed > 382,744.' in Design List screen.
Fixed error "A form can't be moved or sized while minimized or maximized" in Design Print Preview screen.
Image below shows the reduction in the number of coordinates and file size generated by the DXF export. Coordinates were selected in CorelDraw.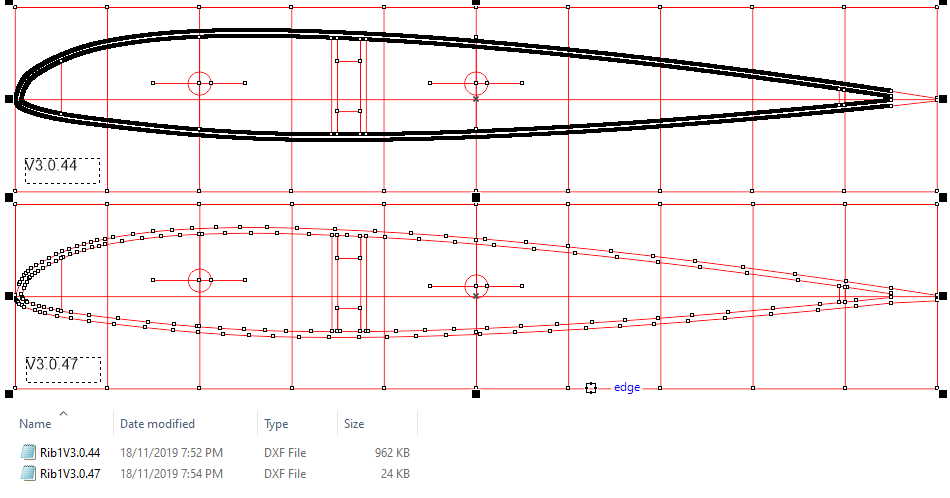 Image below shows the DXF export without the skin outline.