How do I add additional fuselage formers to Winfoil so that they appear in the list of design types in the Design List screen.
Design Components - Adding Fuselage Formers
Winfoil is configured using a number of parameters to allow the user to create new aircraft component types. The following article outlines the steps required to add a new Fuselage Former Component.
Please note this this functionality is only available in the registered version of Winfoil. To find out how to register please see the Purchase Page.
1. Open the Preferences screen from the File Preferences Menu./p>
2. Click on the Advanced button on the lower left.
3. This action will open the Parameter Maintenance screen shown below.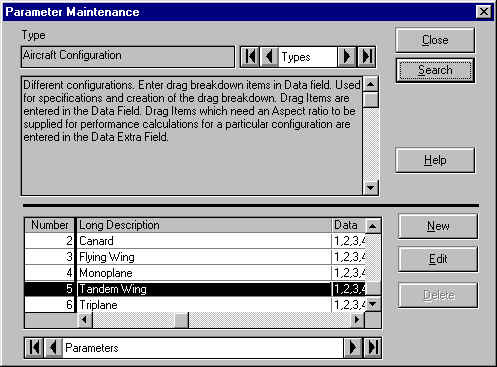 4. Click on the Search button.
5. This action will open the Search screen. Click on the Design Components entry and then click on the Ok button.
6. We want to add a new fuselage component, so we click on the New button on the lower right and this will then open the Parameter Type Maintenance screen as shown below.

7.Enter the new component Short Description and Description. You should also take note of the Parameter No. which is automatically assigned. In this case it is 15. This number will be used in the next step.
8. Click on the Save button to create the component.You will then be returned to Parameter Maintenance screen.
9. Click on the Search button in the Parameter Maintenance Screen. Click on the Component Grouping entry in the Search screen and then click on the Ok button.
10. In the Parameter Maintenance Screen select the Fuselage Components entry in the list in the lower section of the screen and then click on the Edit button. In the Data field add the Number for the new component obtained from step 7 above. In this case it was 15. Each entry is delimited by a special character. Winfoil determines this character depending on the regional settings of the PC on which it is installed. In most English speaking countries it is a comma in other countries it will be a pipe character (|). This is to ensure that the delimiter is not confused with any numeric formatting character as a number of countries use a comma to represent a decimal point. An example is shown below;

11. Repeat step 11 for the following items for the Component Grouping Parameter;
All Fuselage Comps and All components.


Now when you add a design item in the Design List screen the Fuselage Former 7 will appear in the dropdown list of Types.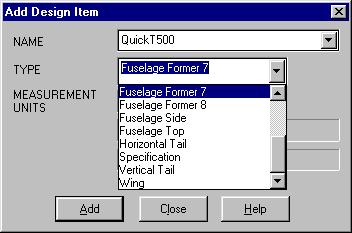 Winfoil 3 Other Details

User Portal